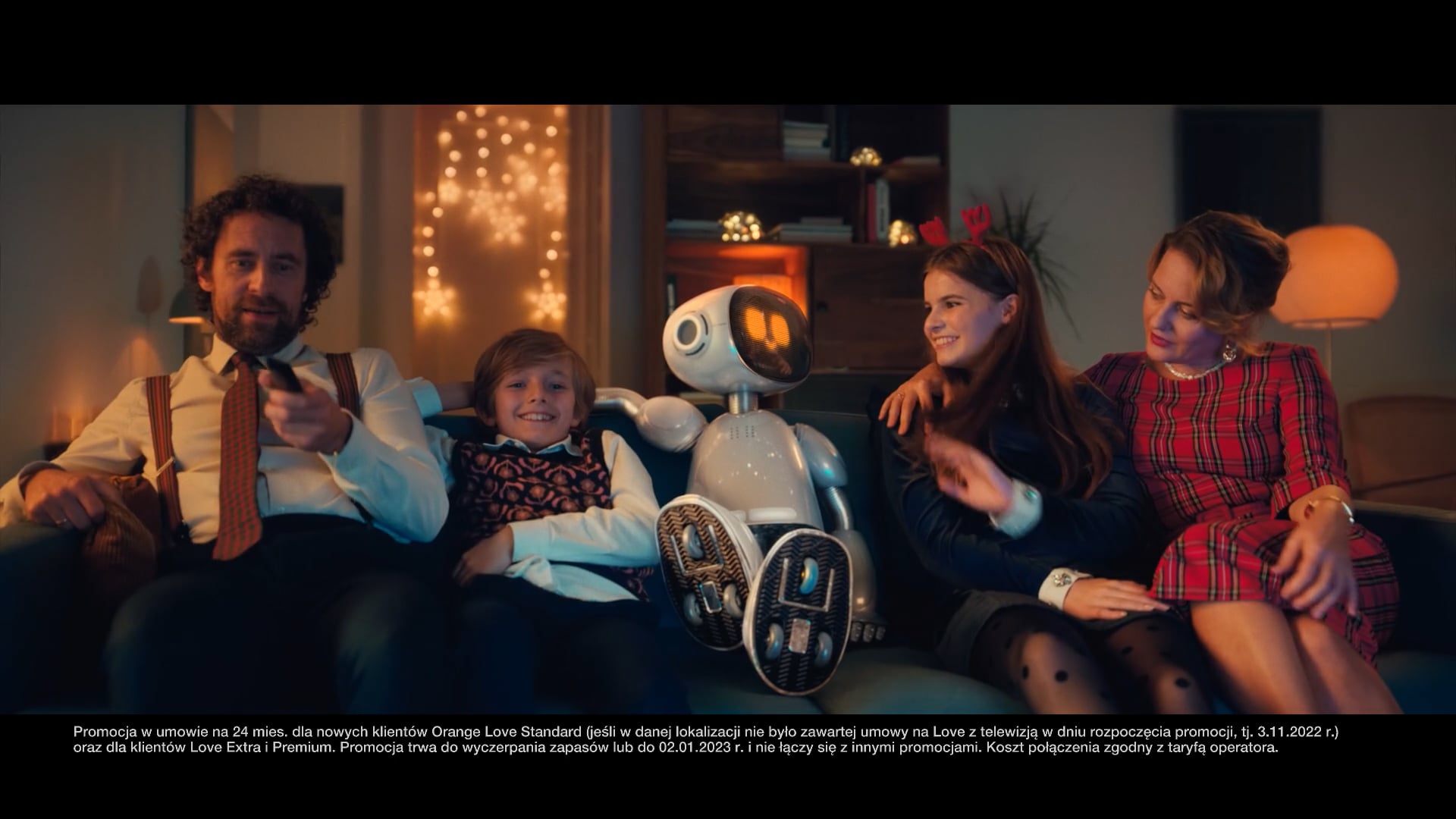 Orange. Robot Max.
Client
Orange Polska
Agency
Leo Burnett / Publicis
Production house
Film Produkcja
Director
Sebastian Pańczyk
DOP
Jakub Kijowski
Postproduction
ORKA
Producers
Katarzyna Kozłowska, Magdalena Rokicka, Karolina Barciszewska
Supervisors
Tomasz Oleksa, Marek Subocz
The Orange campaign required us to create an animated model of the robot, starting from the concept itself, down to the slightest shimmer on its shiny surface. The director, Sebastian Pańczyk, praised our involvement in the creative process – the fact that our graphic designers did not limit themselves to performing commissioned works, but proposed various variants of solutions themselves (e.g. the appearance of hay held by the robot or reflections on created objects).
We engaged as many as three VFX specialists in the work on the set: two supervisors and an assistant. The task of the first supervisor was, as always, to gather general information about the set, including the parameters of the lenses used. The additional supervisor and accompanying assistant took care of HDRI and photogrammetry, which we used here in the entire spectrum of its applications.
---
Concept artist: Przemysław Kotyński
3D: Tomasz Oleksa, Bartosz Dziubiel, Jakub Ludwiczak, Rafał Machelski, Dariusz Wawryszczuk
3D Tracking: Szymon Słowikowski
Animation: Bartosz Jerczyński, Jędrzej Sosnowik, Pawel Radkevich
Compositing: Marcin Kolendo, Mikołaj Korecki, Bartosz Nuckowski, Michał Kwiatkowski, Dawid Miara, Paweł Lorens
On-line: Piotr Giżu Giżewski
DI: Daniel Pawtel, Wojtek Hryniewski, Nikodem Pietrzyk, Anna Rynkiewicz
VFX Coordinator: Natalia Jonak
Sound studio: Lunapark